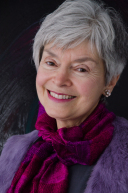 Violet Rosegarden
Violet Rosengarten began her artistic career as a textile artist, apprenticing with the indigenous people in Mexico and Guatemala.
Her scarves and shawls were sold at exclusive boutiques on
Madison Avenue and at the department store, Bonwit Teller
in New York. Her tapestries explored colour, texture and abstraction. Upon graduating with a BFA in 1989 from
Concordia University in Montreal, she became a painter.
Violet creates mixed media abstract paintings. She also enjoys plein air painting. She has exhibited in solo and group shows in Quebec, Ontario and now in Nova Scotia.