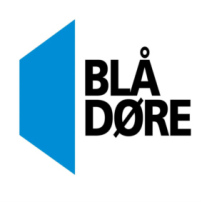 Blå Døre / Blue Doors, a group of Danish artists in the town of Esbjerg, were formed in 2003 to establish an annual event called Åbne Døre / Open Doors. Åbne Døre takes place in the various Blå Døre member's workshops, ateliers and galleries. This event takes place annually on the 4th weekend in September.
Esbjerg are rightfully proud of being a strong artist community with many interesting profiles, who produce high-quality art. Blue Doors is an association, which proves that it is willing to renew itself and seek new inspiration repeatedly.
Since the last time Blue Doors took place, some of the members have been involved in an exciting cooperation with artists from Houston, Texas. The idea came from Esbjerg's identity as EnergyMetropolis and membership of World Energy Cities Partnership, which is a global network for the leading energy cities. This resulted in an exciting process, where an art collaboration took places across the Atlantic. Art became a bridge-builder and added a new dimension to a professional cooperation. This initiative does not stop here, because this new Roerpost collaboration with Halifax, Canada is is already well underway.